Automotive vacancy rates saw rapid rises in 2021 and have remained at record highs in 2022, with job posts for vehicle technicians, tyre, exhaust and windscreen fitters seeing significant increases.
The Institute of the Motor Industry (IMI) has released its latest Automotive Job Postings Briefing, showing that the current national vacancy rate (number of vacancies per 100 employees) is 4.1, with motor trades tracking at 3.8, the equivalent of 20,000 vacancies. 
Advertised salaries have also increased in the past three years, including those for vehicle technicians rising by 5.5%, as the industry looks to recover from the COVID-19 pandemic and the impact on jobs.
Automotive job postings rise
There has been a 4% increase in automotive job postings for vehicle technicians compared to the same time last year, while postings are 70% higher than those in September 2019. In the past six months alone there has been an increase in demand for sales skills in vehicle technician job postings.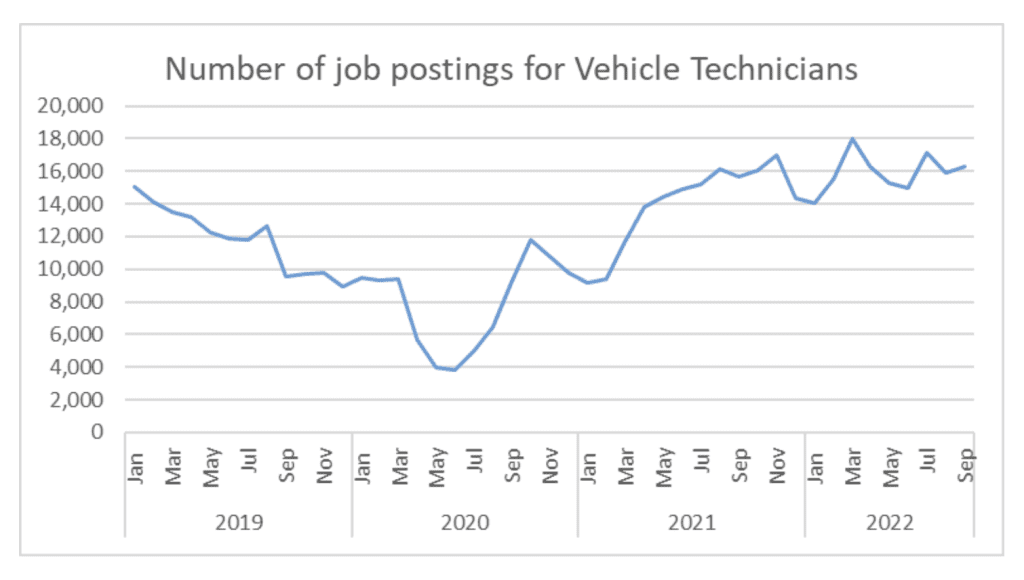 Meanwhile, job postings for tyre, exhaust and windscreen fitters have seen a significant increase in past three months, 45% higher than the same time last year.
Job postings for vehicle technician apprentices saw large increases at start of 2022, but have now fallen back, the IMI reports. Vehicle and parts salesperson apprentice job postings saw significant increases at the start of year, but have now fallen back from July's record numbers.
According to the IMI briefing, all occupations have seen increases in advertised salaries over the past three years. However, vehicle technicians have seen the largest percentage increase in the last six months, with average advertised salaries increasing by 5.5%. Currently the average advertised salary is £34,500.

Tyre, exhaust and windscreen fitters have seen the largest increases over the three-year period, increasing by 21.3%. Currently, the average advertised salary is £26,600.
"While overheated salary expectations can put pressure on employers, they are also obviously a positive for individuals," commented Emma Carrigy, Research & Insight Manager at the IMI. "They are also potentially a positive for the sector as a whole. At the IMI we regularly hear questions about how the sector can attract talent and minimise churn; in this context it is good to see the industry evolving and salaries going up."
Electric vehicle skills requirements increase
In the past six months, the IMI has seen the number of jobs which specifically request electric vehicle (EV) skills increase, although numbers are still small.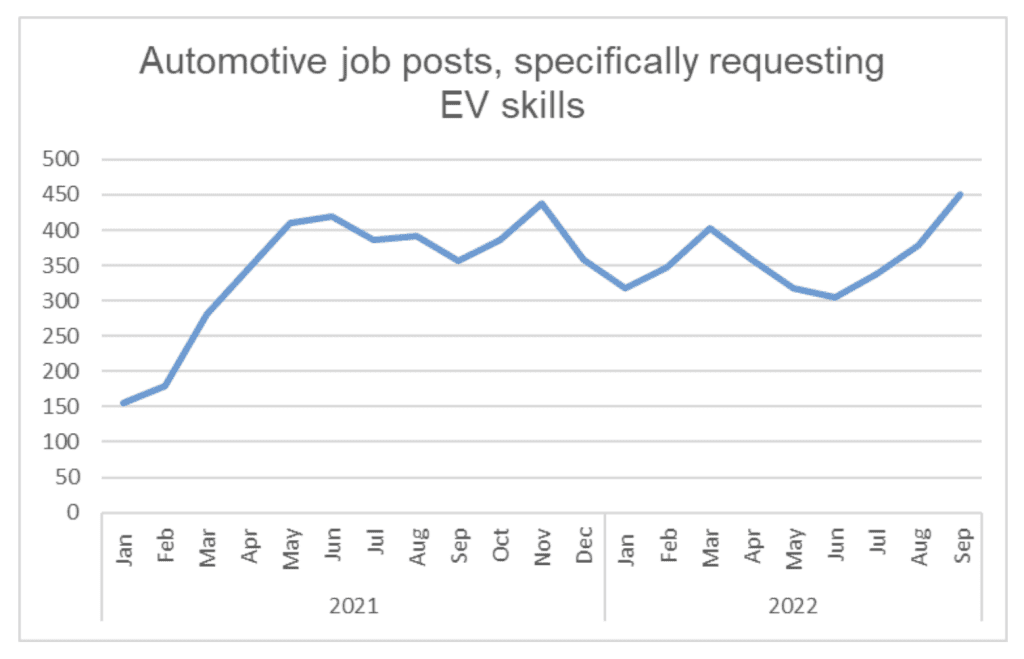 There may be several explanations, according to the automotive body. Firstly, the request for EV skills is an implicant requirement from the recruiter. Alternatively, there is not the demand from certain sector yet, an example of this is roadside assistance.
The number of EVs on UK roads is increasing, but in comparison to petrol and diesel models, their numbers in the UK car parc are still small. In addition, the rapid growth in EV numbers has come in the last two years, with most vehicles unlikely to enter the aftermarket until they are three years old.
Additionally, EVs require less maintenance that traditional models, meaning garages are likely delaying looking for electrically-trained technicians. However, there is still a need for these skills in the workshop, with hybrids a common sight in the UK, making up larger numbers in the country's car parc, and the increasing number of EVs likely to make an impact sooner rather than later. 
Previous analysis had also highlighted a salary premium for job posts specifically requesting EV skills. The latest IMI briefing has revealed that this is currently not the case, as these job posts currently match advertised vehicle technician salaries. The understood reason for this is that urgency to address the current vacancy rate has meant all salaries have increased for all technician roles.