Almost half of automotive companies are concerned about skills shortages in key roles, across the entire industry, according to the latest automotive survey by the Society of Motor Manufacturers and Traders (SMMT).
The automotive body has found that 49% of companies harbour worries about skills in the marketplace, with everything from research to design, manufacturing to the aftermarket suffering. With this in mind, the SMMT has launched a new automotive Career Guide to attract top talent.
Aftermarket skills are as important as all others as the automotive industry goes through an intense period of change, while at the same time facing a number of crucial challenges. The transition to zero-emission vehicles, including electric and hydrogen powertrains, and regulations preventing sales of new petrol and diesel models across Europe, means carmakers and the aftermarket have to adapt at a faster pace than ever before.
Yet the market is not attracting as many skilled employees as before. The automotive world is now competing with other technological areas, including online design and coding, electronics development and gaming. Automotive is no longer just a world of engineering but a mixed marketplace with the need for a vast range of skillsets.
SMMT Career Guide aims to educate
The SMMT Charitable Trust Fund, in partnership with the City of London Livery Company, the Worshipful Company of Coachmakers and Coach Harness Makers, has launched the guide to mark the UK's first Green Careers Week (7-12 November). The guide provides a key resource for school leavers, graduates and career changers on the vast range of new opportunities in the development, production and maintenance of exciting technologies.
The new guide offers insight into a wide range of automotive sectors and employers, with advice on how to find the ideal job or apprenticeship, interview techniques and scholarship and bursary opportunities, for people from all backgrounds, experience, gender, ethnicity, qualification and ability.
The launch follows SMMT's latest member survey, which found that nearly eight in 10 (77%) companies were struggling to recruit staff in engineering, design and research and development roles, while more than seven in 10 (73%) are experiencing recruitment challenges in operations and manufacturing roles.
Aftermarket skills offer opportunity
The guide highlights that the aftermarket is a huge sector employing hundreds of thousands of people. The annual turnover of the industry is around £50 billion, with 54,000 businesses involved in the market.
The change in the market over recent years is also highlighted, increasing the need for a diverse range of aftermarket skills. Take, for example, the windscreen. Companies have gone from on-site repair to mobile services over the years, but the humble piece of glass has also evolved, meaning more skills are required. It can have heating elements, or radio receivers, and in most modern cases, radar or LiDaR systems sitting behind it. Replace the windscreen and you also need to ensure a proper calibration of safety-critical components.
"The aftermarket has to keep on top of a lot of new technology, not least new drivetrains," the SMMT career guide states. "Although a lot of the tens of millions of vehicles on the road are going to be internal combustion for many years to come, make no mistake that alternative systems including electric and fuel cell are joining the network in increasing numbers. The aftermarket, and its workers, will have to adapt and make sure it knows how to keep them moving, too."
There are also opportunities in design, with 3D CAD modelling increasingly used for new vehicle-part designs, while the opportunity to code diagnostic machines or work with development of diagnostic computer systems. For those looking at a career in technological development, engineers, mechanics or many other paths, there are numerous aftermarket skills that are required by the industry.
Peter Lawton, Senior Section Manager for Aftermarket at the SMMT, comments in the SMMT Career Guide: "You could take a degree at university to start that way, or kick off as an apprentice and work your way up. You could run a warehouse, lead and coordinate delivery teams, trawl the world's factories to find people to make your parts, design new systems and components, or get your hand in actually fixing and maintaining vehicles.
"There are so many possibilities, working in companies with thousands of colleagues or just a handful. The aftermarket is a highly professional sector that provides millions of consumers with a high-quality, value-for-money service that keeps their cars operating safely. It is well resourced, well supported and engaged with government to help promote its offering and make its future as viable as possible. It is a vibrant sector with lots of opportunities."
UK Automotive has strong reputation
With some 14,000 new roles either delivered or being created by UK investment in zero-emission vehicle and battery production since 2011, the automotive industry is searching for talented, creative employees to join its ranks as it helps to drive Britain's move to a net-zero economy.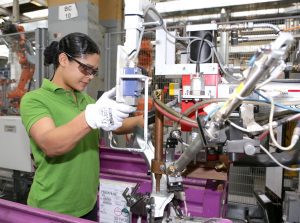 The UK automotive industry has a strong reputation for the provision of inspiring and rewarding careers, with salaries around 14% higher than the average, in every part of the UK, according to a report from the Institute of the Motor Industry (IMI). The advancement in zero-emission and self-driving vehicle technologies is opening up even more opportunities beyond the roles traditionally associated with the sector, as the workforce adapts to new, cutting-edge technology and software.
With the number of automotive apprenticeship starts growing by 67% last year, 16% above pandemic-levels,the industry has never been more open and accessible to career seekers, with roles ranging from electric vehicle design and fuel cell technology research to roles in the development and testing of self-driving vehicle technology, high-tech repair and maintenance.
"Britain's world leading automotive sector is delivering the vehicles of the future, today, and the skills and commitment of a new generation of diverse and talented workers will secure its success," commented SMMT Chief Executive Mike Hawes. "There has never been a more exciting time to work in the industry, with some of Britain's best paid, rewarding and long-lasting careers, and a breadth of opportunities at the vanguard of the net-zero and AI revolution. The new SMMT Career Guide offers a valuable resource, providing advice on how to join the sector in roles as diverse as design, data analytics, engineering and marketing, leading the charge towards a zero-emission future."