Drivers in the UK support keeping the first MOT at three years to maintain road safety, as the consultation for proposed changes ends today.
Research by the Society of Motor Manufacturers and Traders (SMMT) shows that 67% of car owners were concerned that extending the MOT would put lives in danger with three quarters agreeing that the typical £35-£45 cost of a test is a price worth paying for the peace of mind it provides that their car is safe and roadworthy.
The government consultation aims to save motorists money by switching to a 4-1-1 system, or even a 5-1-1 or 3-2-2, as mentioned in the consultation papers. This would deliver a cumulative saving to owners of three-year-old cars worth between £91 and £117 million, based on 2.6 million first presentation tests. For the average driver this would represent a saving of £35-£45 over the first three years' ownership – or 23p-29p a week.
"Road safety is the number one priority for the automotive industry and the MOT is a crucial component in keeping the UK's vehicles and roads safe," commented SMMT Chief Executive Mike Hawes. "Our survey shows that drivers support the existing MOT frequency and that there is little appetite to change it, despite the increased cost of living. If changes to the MOT are to be made, these should enable testing of advanced electrified powertrains, driver assistance technologies and connected and automated features, as drivers value the peace of mind the MOT offers."
Road safety not worth the savings
Almost nine in 10 respondents to the survey (87%) said they would prefer other ways to save money, for example, a reduction in VED or a cut in fuel duty, over a delay in a safety check of their vehicle. Moreover, given the survey found that 66% of respondents spend more than the typical price of an MOT in fuel alone over just two weeks, it would take a cut in fuel duty of between a fifth and a quarter of a penny to deliver the same total saving across all motorists, not just those with relatively new cars.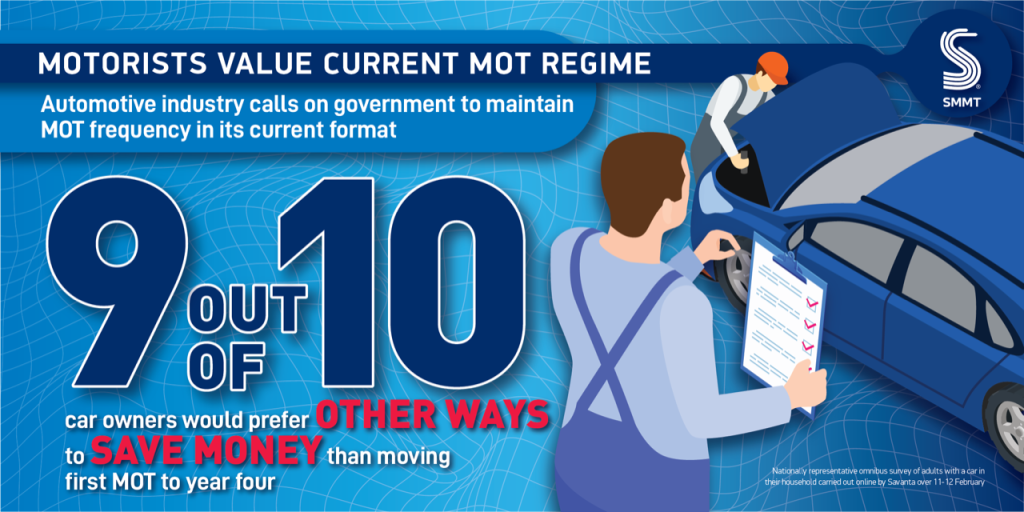 The SMMT highlights that while billions of pounds of investment by vehicle manufacturers has made vehicle road safety better safer for drivers and other road users thanks to innovations such as collision avoidance systems, adaptive cruise control, autonomous emergency braking and blind spot monitoring, the MOT test often remains the first opportunity to identify natural wear and tear on safety-critical components such as tyres and brakes.
More than 300,000 vehicles fail their first MOT through failure to meet minimum safety requirements, with fails frequently associated with tyres, brakes, lights and suspension. Indeed, the SMMT survey reveals just how heavily drivers rely on the MOT and aftermarket, service and repair sectors for checks on these common faults, and the impact it would have on road safety if the frequency changes..
Nearly a quarter (23%) don't regularly check that their brakes are working correctly, almost a fifth (19%) whether their tyres are okay (which should be done monthly), and 17% that their lights and indicators are functioning. These three areas accounted for nearly a quarter of a million failure items alone in 2022. Unsurprisingly, 66% of respondents say they would not purchase a three-year-old car without an MOT.
Wear and tear items are just that, and reliability of vehicles does not increase reliability of these components. They are dependent on how a vehicle is driven, rather than how technologically advanced it is. An increase in worn tyres alone would impact the UK's road safety record.
Reduced spending on car maintenance 
Seven in 10 motorists usually get their car serviced at the same time as their MOT. With the cost of living increasing, however, more than a third of drivers now say they will reduce spending on car maintenance.
This reinforces the importance of keeping MOT frequency at three years, and annually thereafter, to help drive regular vehicle servicing and help maintain road safety. Given that six in 10 would commit no more than £600 a year to maintaining their vehicle – less than the average annual spend on takeaway food – the link between the MOT check and service frequency cannot be underestimated.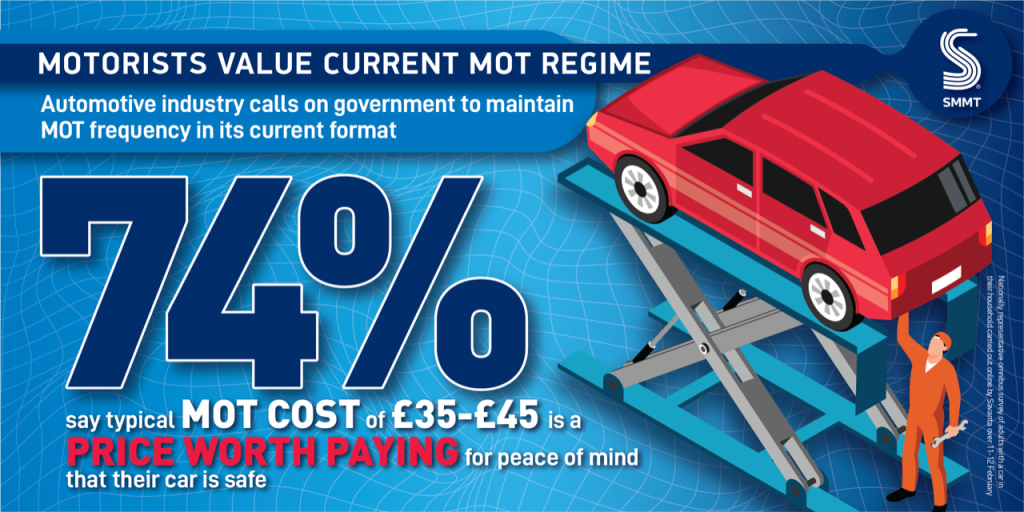 In fact, evidence from the period of COVID-19 lockdowns when motorists were granted MOT extensions shows that failure rates increased by 2-3%, despite significantly lower vehicle mileages driven, the conclusion being that car owners had not maintained their vehicles during the period of MOT exemption.
The SMMT is therefore calling on government to maintain the requirement for a first MOT at year three, and annually thereafter, while also introducing improved emissions tests and adaptations in line with the shift in technology to electrification and advanced driver systems, in order to help maintain road safety levels for drivers and other highway users..