Automechanika Birmingham is back in 2023, with show organisers Messe Frankfurt UK unveiling an interactive floorplan to showcase all that visitors can expect to see so far next year.
Visit the Automechanika Birmingham floorplan
The Automechanika Birmingham floorplan shows the current exhibitors, sections, seminar booths and training hubs planned across three halls of the NEC in Birmingham. A host of top companies from around the automotive aftermarket have already signed up, with many more expected to be added in coming weeks and months.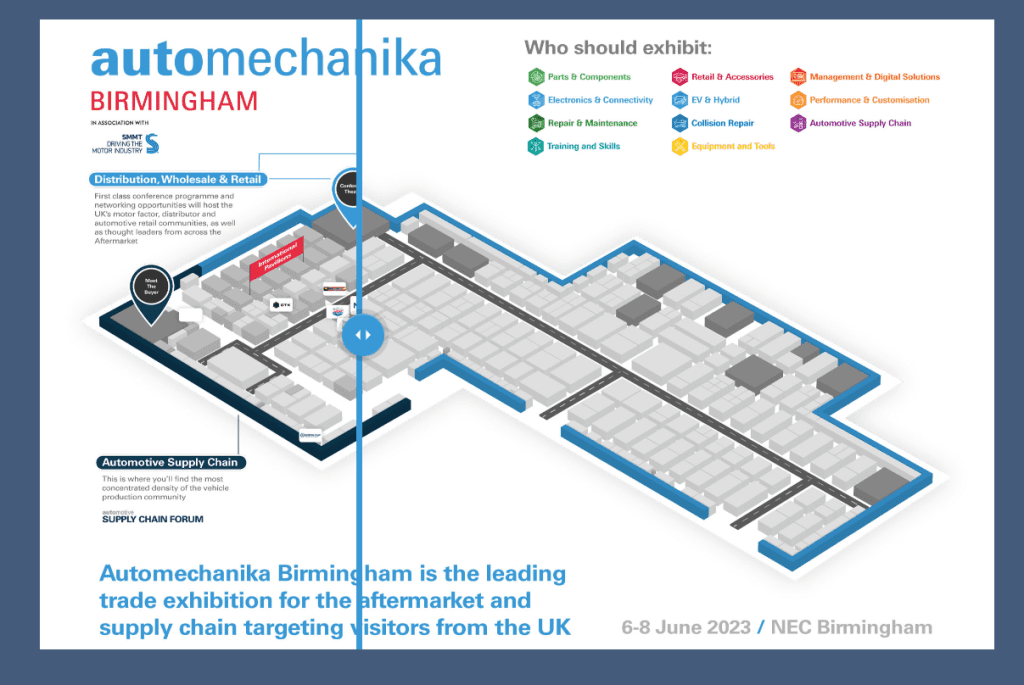 While usually giving visitors a guide around the layout of an exhibition, the Automechanika Birmingham floorplan also shows what to expect. Messe Frankfurt UK have once again divided the show into sections, covering the automotive supply chain, collision repair, distribution, wholesale and retail sectors, and garages.
Discover the future with Automechanika Birmingham
This will be the first Automechanika Birmingham show since 2019, as the COVID-19 pandemic played havoc with exhibition schedules around the world. This means the event in 2023 will be hotly anticipated, especially as the automotive landscape has changed greatly in the intervening years. New vehicle technologies, the importance of online sales, and the electrification of the UK's car parc are challenges the aftermarket is having to face, and Automechanika Birmingham can help garage owners and technicians learn more about the road ahead for the industry.
To find out what to expect from next year's show, visit the interactive Automechanika Birmingham floorplan. While tickets for next year's show are not yet available, you can register your interest, and be one of the first to know when they will be.