Laser Tools Racing is to support British racer Chloe Grant in the new all-female F1 Academy series, running this year in support of selected F1 races.
Grant has joined ART Grand Prix, a team with a rich history in developing drivers for the pinnacle of motorsport. Drivers to have come through their ranks include Lewis Hamilton, Sebestian Vettel, Nico Rosberg, Nico Hulkenberg and George Russell to name but a few. The team will field three cars in F1 Academy, and will run the cars alongside its commitments in Formula 3 and Formula 2.
Founded by Formula 1, the F1 Academy is a brand new all-female championship for 2023. It features seven events all staged on famous Grand Prix tracks, 21 races in total, and includes a season finale alongside F1's United States Grand Prix in Austin, Texas in October. The series is aimed at developing and preparing young drivers to progress to higher levels of competition.
Formula 1 has not had a female racer attempt to qualify for a grand prix since 1992, and the last to participate in a race was Lella Lonbardi in 1976. In recent years, attempts have been made to encourage women into motorsport, with the W Series showcasing female talent in single-seater categories. As the series hit financial trouble last year, F1 bosses themselves have stepped in to continue the promotion and pathway for women into the higher echlons of motor racing.
Exciting times ahead for Chloe Grant
Speaking about her announcement, Chloe Grant said she was excited about the new opportunities that the series would bring: "I could not be prouder to invite Laser Tools Racing on board for another exciting year of racing, this time, with F1 Academy!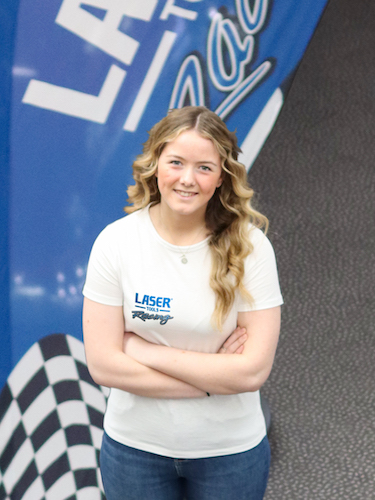 "This is my second year with Laser Tools Racing, and we share the same passion for winning! The F1 Academy has presented an amazing opportunity and with the capability of ART Grand Prix, I cannot wait to get started."
Keith Anderson, Motorsport Sponsorship Liaison for Laser Tools Racing, added: "We were very impressed with Chloe Grant's performance in last year's GB4 championship and are excited to be supporting her in this very prestigious F1 Academy series. With Chloe we can continue with Laser's ethos of spotting young talent and then developing that talent on the racetrack."
The road to F1 Academy
Grant's racing career started in 2013, competing in the East of Scotland Kart Club where she secured the award for best up and coming driver for the 2014 season. Remaining here for the next two years, she finished 3rd then 2nd before moving on to Minimax, securing the ESKC Junior championship.
In 2020, Chloe Grant became the youngest driver, at 13 years old, to secure a Motorsport UK Junior Racing Driver License in Scotland. In subsequent years she went on to win the CKRC Championship and the BWRDC Kart Sport Championship. 2022 saw her take part in the GB4 Championship's inaugural season with Laser Tools Racing where she finished 9th overall, securing 10 top 10 finishes from 12 races in the second half of the year. Chloe Grant was recently selected as a Ecurie Ecosse "driver" — for Scotland's very own national racing team that has nurtured young Scottish talent like David Coulthard, Dario Franchitti and Allan McNish.
The Loughborough College student is currently completing a two-year Enhanced Diploma in Sporting Excellence (DiSE) course provided by Motorsport UK Academy. Chloe Grant will test for the ART Grand Prix team for the first time next month in Spain and France, when the 15-car grid comes together prior to the first race.
F1 Academy 2023 Calendar:
Round 1 Spielberg, Austria: 28-29 April
Round 2 Valencia, Spain: 05-07 May
Round 3 Barcelona, Spain: 19-21 May
Round 4 Zandvoort, Netherlands: 23-25 June
Round 5 Monza, Italy: 07-09 July
Round 6 Le Castellet, France: 29-30 July
Round 7 Austin, USA: 20-22 October