MOT demand could fall by as much as two million bookings this spring, leaving numbers in April and May below pre-pandemic levels by as much as 37%, according to data from the DVSA.
Through a Freedom of Information request (FoI) made by BookMyGarage.com, the data suggests there will be significant peaks and troughs for the industry throughout 2022 and potentially for years to come.
With the effects of the 2020 six-month MOT extension still echoing through the sector, the research indicates the months of April and May will see demand for MOTs plummet again this year, after April and May 2021 saw 2.3 million fewer MOT tests take place compared to pre-pandemic levels.
Although March and April are traditionally busier months due to the UK plate change and increased vehicle registrations around this time, the dramatic decline in April 2020, as dealerships closed due to lockdown, coupled with the fall in demand in March 2021 and 2022, means it is unlikely the MOT sector will see a recovery to pre-COVID-19 numbers for some time.
Last April and May saw 3.1 million MOTs take place, and while this represented a recovery of 1.5 million MOTs on the same months in 2020, it still fell significantly short of the 5.4 million MOTs which took place in 2019.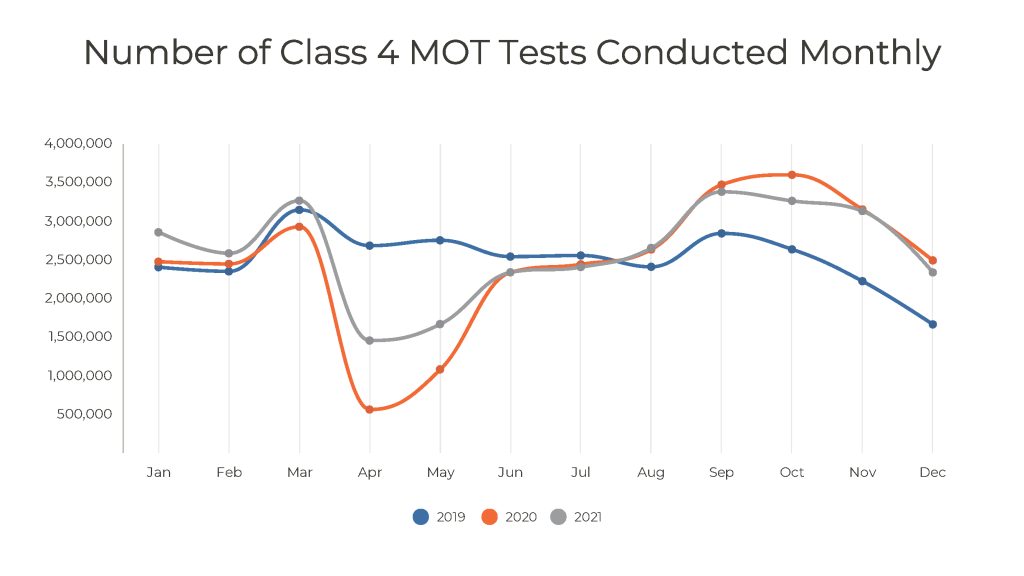 The data shows there is a need for the aftersales sector to accelerate its digital transformation to capitalise on additional revenue from segment 2 and older vehicles to plug the spring shortfall.
"There's never been a better time to adapt fast by increasing market share and gaining conquest bookings – the months ahead will once again see historically low MOT numbers, yet garages can battle this shortfall by offering consumers the added transparency and convenience of a digital customer journey," said Karen Rotberg, Co-founder of BookMyGarage.com.
"April and May will be tough months because as well as fewer MOTs, there will be less servicing work. In fact, our research shows that nearly 70% of drivers aim to have their vehicle serviced when they get their MOT. Losing this opportunity instead of gaining ground lost to fast-fits or other rivals could deal a significant blow to any garage."
The peak months for MOTs this year will be September and October, when MOT numbers last year were 22% higher than pre-pandemic levels.
Rotberg continued, "With a post-summer rush in sight before long, it is the time to scale up capacity ahead of the busy September to December period. While this year will be highly backloaded, garages can act and adapt now.
The FOI data shows how the long-established distribution of MOTs conducted throughout the year is, for now at least, a thing of the past. Traditionally, March and September would show modest spikes due to the new car registration release dates.
| | | |
| --- | --- | --- |
| | | Number of Class 4 MOT Tests |
| 2019 | January | 2,404,367 |
| | February | 2,350,282 |
| | March | 3,147,145 |
| | April | 2,683,000 |
| | May | 2,752,830 |
| | June | 2,541,431 |
| | July | 2,556,029 |
| | August | 2,409,148 |
| | September | 2,842,031 |
| | October | 2,635,218 |
| | November | 2,222,991 |
| | December | 1,663,285 |
| 2020 | January | 2,475,872 |
| | February | 2,446,441 |
| | March | 2,928,228 |
| | April | 560,861 |
| | May | 1,080,628 |
| | June | 2,133,861 |
| | July | 2,441,623 |
| | August | 2,634,001 |
| | September | 3,473,126 |
| | October | 3,600,479 |
| | November | 3,152,088 |
| | December | 2,491,993 |
| 2021 | January | 2,856,305 |
| | February | 2,584,004 |
| | March | 3,266,265 |
| | April | 1,454,186 |
| | May | 1,666,822 |
| | June | 2,337,777 |
| | July | 2,405,453 |
| | August | 2,654,191 |
| | September | 3,380,421 |
| | October | 3,263,231 |
| | November | 3,131,814 |
| | December | 2,336,804 |
Number of Class 4 MOT tests conducted between January 2019 and December 2021. Data sourced from the DVSA via a Freedom of Information Request by BookMyGarage.com