Rising operational costs, taxes and energy bills are likely to be the biggest challenge facing independent workshops this year, according to a Motor Ombudsman poll.
The cost-of-living crisis shows no signs of abating, affecting multiple markets and having a number of knock-on affects. This means that 90% of independent garages polled by the Motor Ombudsman said their biggest concern for 2023 is operational costs. This is up from 64% who stated that paying more for utilities and higher costs had reduced overall business profitability last year.
As the motor industry is one of the biggest users of energy in the UK, the pressure on businesses is growing as costs rise.
Decline in motorist spending also a concern
Nearly two-thirds (63%) of businesses that took part in the research by the Motor Ombudsman for the automotive sector, also cited that they will have to contend with motorists putting off essential repairs to their vehicle this year due to the squeeze on household incomes. Similarly, 59% of survey participants stated that paying more for replacement car components due to shortages and inflation would be another trying factor during the coming year.
According to the findings from the Motor Ombudsman, fewer customers being able to afford routine vehicle maintenance, such as servicing, poses another threat to footfall and revenues for 57% of garages and workshops in 2023, whilst just under half (49%) explained that they will be looking to avoid passing on higher operating costs in the prices charged to customers due to the challenging economic climate.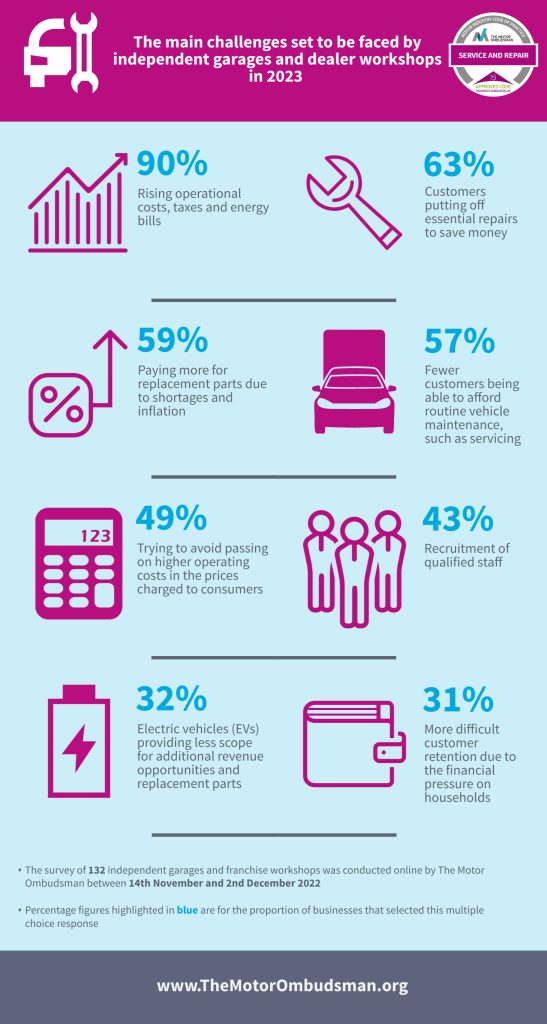 The situation is such that in another recent study by Halfords, 38% of drivers said they could not afford an MOT, with 45% saying they would risk driving without one. Another survey conducted by BookMyGarage.com saw a third of drivers saying they were putting off essential maintenance. 
More recently, the Verification of Lubricant Specifications (VLS) has urged drivers to ensure they have regular oil changes, or they could face higher costs with the replacement of engine components that are starved of oil. 
As consumers continue to reign in their spending due to the ongoing cost of living crisis, close to a third (31%) of respondents to the Motor Ombudsman poll said that customer retention would be a challenge this year. Furthermore, with economic forecasts pointing to a downturn in the UK, 29% of garages and workshops explained that generating new business may equally prove difficult during 2023.
Skills and EVs concern in Motor Ombudsman survey
When asked about the difficulty in recruiting qualified staff during the coming year to expand capacity, 43% stated that adding experienced technicians to their team would continue to be a challenge. However, this is a slight improvement on the 50% of businesses that said in the survey that they had struggled to recruit in 2022.
With fewer moving and serviceable parts on electric vehicles (EVs), around a third of workshops responding to the Motor Ombudsman (32%) stated that EVs would provide less scope for additional revenue and aftermarket opportunities in 2023. However, with battery electric vehicles making up a growing proportion of the car parc, nearly half of the businesses surveyed (44%) still plan to invest in staff training on EVs, whilst around a quarter (23%) explained that they would be looking to introduce or add charging points at their premises.
"Following the festive break, it is a case of picking up from where we left off in 2022, as the findings from our research show that garages and workshops will have to contend with a multitude of challenges this year," commented Bill Fennell, Chief Ombudsman and Managing Director of The Motor Ombudsman. "At the forefront of these will be navigating a rise in operational costs at a time when many consumers are feeling the strain on their finances, meaning vehicle maintenance and repairs could take a back seat.
"As the headwinds facing the economy and households show little sign of abating in the short term, remaining competitive, retaining customers, and finding new revenue channels, will therefore be crucial for businesses in order to deliver a positive bottom line."
Is it all bad news?
The recent Auto Repair Focus Podcast episode 'How 2022 can be a positive step for the year ahead' addresses concerns around the cost-of-living. While there are challenges with operational costs, there is also opportunity, as drivers hold on to their cars for longer, and many will consider servicing over a new vehicle. 
Ensuring that drivers are educated on the needs of servicing, especially those who may be entering a fourth year of ownership rather than swapping a vehicle after three years, could help grow repeat business to a workshop. Especially when discussing the cost of a service against a more expensive repair bill.
The automotive market is changing with many factors playing a part, most mentioned in the Motor Ombudsman poll. However, challenges present opportunities and the aftermarket is adaptable, something that will serve it well in the coming months and years.