As winter nights grow longer, the ability to upsell bulbs grows ever stronger. With this in mind, the next-generation Philips Ultinon Pro9100 LED range from Lumiled offers drivers an opportunity to fit OEM-level performance bulbs with optimised consistency and performance.
Equipped with Lumileds' Luxeon Altilon TopContact LEDs, the Philips Ultinon Pro9100 LED range offers up to 350% more brightness when compared to the minimum legal standard for halogen bulbs. They also generate a strong, cool white light to provide sharper visibility.
The increased brightness comes thanks to enhanced LED binning and detailed product refinement. Added to this, the optimal light spectrum makes road signs more visible, and allows drivers to react faster.
Strong light from Philips Ultinon Pro9100 LED range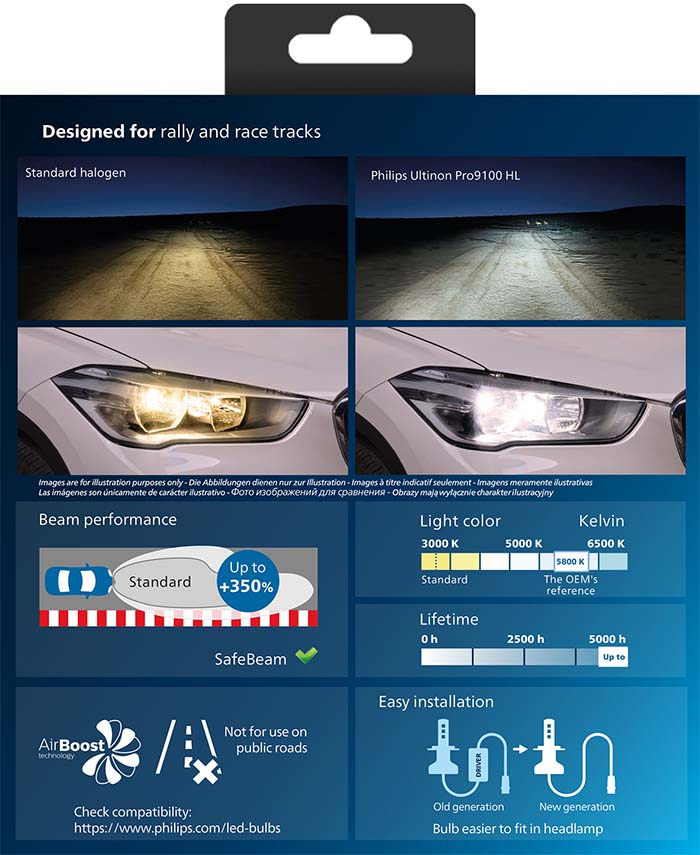 "These unique OEM LEDs provide optimised light consistency, support better heat extraction, and feature the ideal light colour for sharper visibility," said Jacques Le Berre, Business-Line Senior Director, Lamps & LED Upgrades at Lumileds.
The Philips Ultinon Pro9100 range features a colour temperature of up to 5800K, proven among Original Equipment Manufacturers to maximise eye comfort while driving at night. This reduces fatigue and the risk of eye strain to make driving in the dark a safer, more pleasant experience.
LED retrofit and halogen bulbs differ from one another in terms of wattage, composition, and power consumption. Replacing halogen bulbs with other LEDs may, in some vehicles, cause issues such as flickering light. Philips Ultinon Pro9100 bulbs need no additional adapters to eliminate flickering in most cars. They work straight from the package with the vehicle's electrical system to provide a consistent light beam and colour temperature.
The Philips Ultinon Pro9100 LED range is available in the most common headlight bulb types, including headlight (H1, H3, H4, H7, H11, HB3/HB4, HIR2), and fog lights (H8/H11/H16).
To find out more, visit: Philips.com/Ultinon-Pro9100