The annual Pothole Impact Tracker report for Kwik Fit has shown that over the last twelve months, pothole damage has forced nearly 2.7million cars off the road.
The report found that in the year to March 2023, 13.1 million drivers suffered damage to their car after hitting a pothole, and of these, one in five had to do without their vehicle for more than a week while it was undergoing repairs.
With an abundance of cold weather, including sub-zero temperatures for much of December, roads across the country have deteriorated rapidly. With road surfaces breaking up and potholes forming, there is an increase in suspension damage, tracking issues and even other problems caused by components shifting through impacts.
The damage to the vehicle may also not be obvious at first, but could manifest later. Impacts may cause a slow puncture or cracked wheel rim, while misalignment may not be noticed until tyres start wearing at a quicker rate on the shoulder. Therefore, garages should check with customers whether they have taken a hard hit on a pothole recently, and recommend a vehicle check to ensure all is well.
A pothole hit a week
The Pothole Impact Tracker shows that 57% of British drivers say they have hit at least one pothole a week over the last twelve months, with the impact causing damage to over 13 million cars. The average repair bill faced by each driver was £127, resulting in a total cost to the nation's motorists of £1.7 billion.
Kwik Fit first carried its study into the cost of repairing the damage from pothole impact in 2013. The company's research shows that since then, the total burden on British motorists has more than doubled – rising by 121%. This is despite the number of cars on the nation's roads increasing by only 10% over the same period.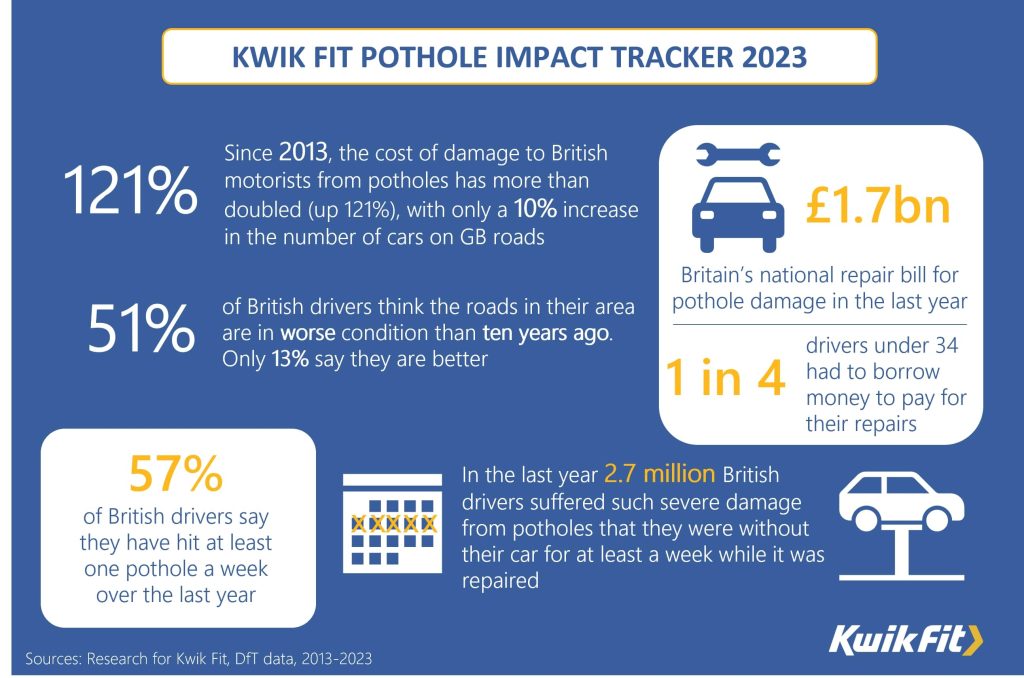 The increased costs are reflective of motorists' responses when asked about the condition of the nation's roads. More than half of all drivers (51%) say the condition of the roads in their area are worse than ten years ago, with 39% saying they are significantly worse. Only one in eight (13%) say the roads are in better condition than a decade ago.
Nearly half of all drivers (47%) think that a portion of the money the government raises through fuel duty and vehicle excise duty should be ringfenced for improving road surfaces. However, with today's ALARM (Annual Local Authority Road Maintenance) report revealing that local authorities need more than £14 billion to fix the backlog of carriageway repairs, the challenge for the government is clear.
Only one in ten drivers (10%) say they would be prepared to pay more fuel or excise duty for direct spending on road surfaces. A similar small minority (10%) would be happy to pay more council tax if it was ringfenced for roads in their local area.
Repair bills rising
Inflation has driven the cost of individual repairs up over the last decade with some drivers being hit especially hard. Garages are increasing labour rates in order to cover business costs and wages, while the price of parts has also increased, mainly due to price rises for raw materials required in manufacturing. Although £127 was the average figure over the last year, many drivers had to pay much more than that, with 850,000 drivers having to stump up over £300 to get their car back on the road.
The repair bills faced by older drivers was a little higher than the average figure, with those over 55 typically paying £140, compared to £123 by drivers under 34, possibly a reflection of the older drivers owning cars that are more expensive to repair. However, despite their lower average repair bill, younger drivers were hit relatively harder than older motorists as almost a quarter (24%) say they had to borrow money to pay for the repairs. This contrasts starkly with those over 55, of whom only 3% had to borrow the cash.
Despite potholes having such an impact on many motorists, just 30% have complained to their local council about a pothole, although among those suffering severe damage to their car, such as to their engine, this rises to 75%.
Roger Griggs, communications director at Kwik Fit, says it is important for drivers to report problem potholes, even if they don't think they have damaged their car. "We know councils have huge demands on their budgets, but it is better that they are aware of a pothole as early as possible," he said. "The condition of road surfaces only goes in one direction, so the longer a problem is left, the more costly it will be to repair. And obviously, in the meantime, the more damage it will be doing to vehicles and causing problems for drivers whose vehicles are off the road."
For England and Wales the Government has a central webpage which will direct drivers to the correct authority if they are unsure who is responsible, with the Scottish Government offering an equivalent service.