July registration figures show another month of growth, making it a full year of improvements, but signalling the potential end of this period of substantial recovery.
According to the latest data from the Society of Motor Manufacturers and Traders (SMMT), The July registration figures saw new car deliveries increase by 28.3%, with 143,921 units taking to roads. This marks the 12th consecutive month of growth, following a supply-chain crisis that crippled vehicle production and delayed deliveries – the point at which registration data is taken.
Last month was the best July since 2020, when pent-up demand for new cars was unleashed following three months of lockdown during the COVID-19 pandemic. However, the market remains behind 2019 figures, currently down only 8.4% compared to the same month. 
As deliveries of delayed vehicles started increasing in August 2022, registration numbers received a large boost. With deliveries normalising in the following months, comparison data is being taken from a low base, when the supply-chain crisis was in full swing. Therefore, while growth may continue, it may slow in comparison with a busier period last year.
The SMMT's latest market outlook now anticipates overall new car registrations to reach 1.847 million by the end of the year, a 0.9% rise on expectations in April.
Fleet sales lead BEV registrations
The demand for battery-electric vehicles (BEVs) was so strong, that the July registration figures saw a new one take to the UK roads every 60 seconds, according to the SMMT. According to the latest market outlook, this will accelerate to one every 50 seconds by the end of the year, and up to one every 40 seconds by the end of 2024. In July, the technology secured a 16% market share.
However, the private BEV market is struggling. Registrations in the sector are down by 10.5%, the SMMT said in a conference call to discuss the current numbers. The technology is still expensive to purchase outright, and with the cost-of-living crisis continuing, alongside a drop in petrol and diesel prices and a rise in electricity costs, it seems private buyers are being put off the investment. The loss of incentives for purchasing BEVs has also not helped. Growth was driven by the fleet sector, with registrations up 72.2% in the month according to the July registration figures.
To meet ambitious but necessary environmental targets, the overall growth of BEVs must move faster. The SMMT believes this can be done with the right support, including financial incentives, purchase reassurance and ensuring drivers are confident in driving and charging, sustainably and affordably.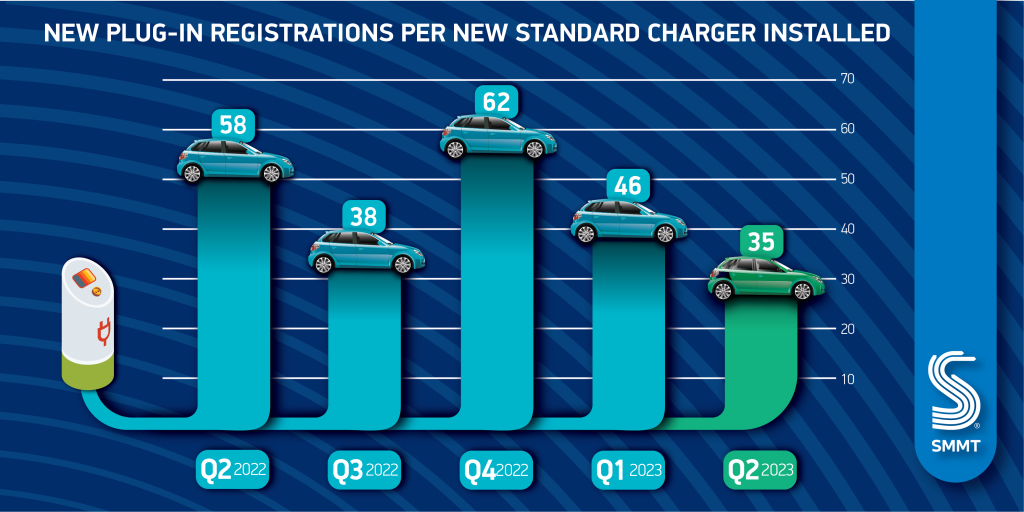 A record high of 3,056 new standard public chargers were installed in July, equal to one new charger for every 35 plug-in vehicles registered. This is a significant improvement on the one for every 58 cars ratio recorded in the same month last year.
However, as the government, charge point operators and the automotive industry agree, reassuring drivers requires building ahead of need. The SMMT states that to reach the government's minimum target of 300,000 charge points by 2030, the installation rate must treble to almost 10,000 chargers per quarter, every quarter. This can only be achieved if obstacles to installation, such as out-of-date planning regulations and access to grids, are overcome.
'The industry remains committed to meeting the UK's zero-emission deadlines and continues to make the investments to get us there,' commented Mike Hawes, SMMT chief executive. 'Choice and innovation in the market are growing, so it is encouraging to see more people switching on to the benefits of driving electric.
'With inflation, rising costs of living and a zero-emission vehicle mandate that will dictate the market coming next year, however, consumers must be given every possible incentive to buy. The UK Government must pull every lever, therefore, to make buying, running and, especially, charging an EV affordable and practical for every driver in every part of the country,' he added.
Petrol stars in July registration figures
Petrol led the way in the July registration figures, improving deliveries by 23.2% when including mild hybrids. This gave the fuel type a 56.8% market share, a seemingly dominant position in the UK new-car marketplace. However, this share has declined by 2.3% compared to July 2022, as competition from electrified vehicles increases. Year to date, petrol maintained its market share (58.6%), and although this is down on 2022, it is only by a modest 0.8% across seven months.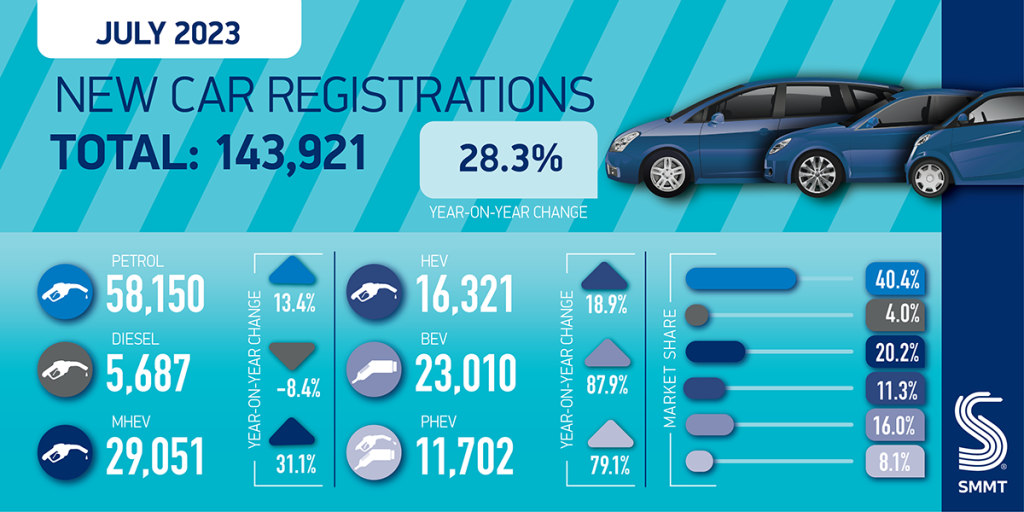 Plug-in hybrids (PHEVs) also saw a significant increase in the July registration figures, making it the second month in a row the technology has performed well. With the removal of buying incentives, PHEVs have had a hard time as drivers moved straight from internal combustion to electric without wanting to bridge the gap. Yet with more models available, and therefore more consumer choice, it seems a small comeback for the technology is playing out.
In the July registration figures, PHEVs saw figures rise 79.1% with 11,702 units delivered. This gave the powertrain an 8.1% market share, up 2.3%. Its year-to-date share had a more modest increase, up to 6.8% overall.
HEV registrations also increased, with the July registration figures showing 16,321 units representing a growth of 18.9%. However, their market share in July fell to 11.3%, a casualty of the success of BEVs and PHEVs. Over the year, HEVs have taken 12.4% of the market, up 0.9% over the first seven months of 2022.
Finally, diesel maintained its downward spiral, with registrations of the fuel type falling 16.3%, when including mild hybrids. This translates into a 7.7% market share, down 4.2% in the month. The July registration figures confirm the continued decline of the technology.
The future forecast
Alongside the July registration figures, the SMMT forecasts that registrations will reach roughly 1.85 million in 2023, an increase of 14.4% on the 2022 total. BEV registrations are expected to rise by 23.4% with 330,000 units taking to roads, a market share of 17.8%.
Looking further ahead, the outlook for 2024 has been downgraded marginally by -0.7% to 1.951 million units, reflecting wider concerns about the cost of living. BEVs are expected to achieve an overall 22.6% market share next year reaching 440,000 units. With a further 155,000 PHEVs anticipated to be registered, commanding 7.9% of the market, plug-in vehicles are likely to account for three in every 10 new cars registered in 2024.