The MOT exemption for classic vehicles will include a number of 80s classics from 1st April this year. With this in mind, BookMyGarage.com has revealed its top 10 classics that will join the list.
The top 10 includes models such as the BMW 3 Series E30, Ford Sierra and Porsche 944, as well as some super rare models such as the Renault 9 and Talbot Samba. These cars join the hundreds of models already on the MOT exemption list.
Once classic cars reach 40 years old, they no longer legally require an MOT test and they become exempt from Vehicle Exercise Duty (VED) under the historic vehicle tax exemption scheme. 
From 1st April 2023, owners of vehicles built before 1st January 1983 can apply for the MOT exemption. Therefore, vehicles which first launched in the UK in 1982 will be joining the list of eligible vehicles for the MOT classic vehicle exemption this year. Vehicles first registered in 1982 will have a registration number that ends in the suffix X or Y.
From most common to rarest, the list consists of the following:
| | | |
| --- | --- | --- |
| | Vehicle | Estimated number remaining in roadworthy condition1 |
| 1 | BMW 3 Series (E30) | 4,000 |
| 2 | Ford Sierra | 2,500 |
| 3 | Porsche 944 | 2,200 |
| 4 | Volkswagen Polo (Mark 2) | 1,600 |
| 5 | Reliant Rialto | 500 |
| 6 | Volvo 760 | 150 |
| 7 | Lotus Excel | 130 |
| 8 | Renault 9 | 90 |
| 9 | Austin Ambassador | 20 |
| 10 | Talbot Samba | 20 |
Although an annual MOT test is no longer needed on vehicles under the MOT exemption, owners are still legally required to make sure their car is in roadworthy condition and can be fined and receive penalty points for driving a vehicle with a safety-critical defect. For example, an illegal tyre can result in a fine of up £2,500 and three penalty points.
MOT exemption does not mean roadworthy
In 2021, research by BookMyGarage.com found that one-in-five classic cars which underwent a voluntary MOT test failed it. The MOT, servicing and repairs price comparison site obtained data from the DVSA via a Freedom of Information request which showed more than 120,000 cars aged over 40 years old underwent a voluntary test between January 2019 and June 2021.
The research also revealed the classic vehicle makes with the highest MOT failure rates, with Dodge, Austin-Morris (BMC), Volkswagen and Land Rover respectively ranked as the worst performers, worrying as they are officially part of the MOT exemption scheme.
"The historic vehicle tax and MOT exemption helps make classic motoring more accessible by reducing costs for owners, and is logical given the majority of these vehicles only cover a small number of miles each year," commented Jessica Potts, Head of Marketing at BookMyGarage.com.
"However, it is crucial owners make sure their vintage car is free from safety defects whenever it ventures onto public roads – whether that means home mechanics regularly inspecting their car themselves, or, for the less mechanically inclined, taking it to a garage for a health check or a voluntary MOT test.
"It is great to see so many iconic classics join the list of cars for MOT exemption in 2023. I'm sure many people will have a nostalgic connection with at least one of the cars listed – whether it's a car they owned themselves, one that belonged to a friend or family member, or simply a car that used to be a common sight on our roads back in the day," added Potts.
The top ten cars joining the MOT exemption list
BMW 3 Series E30 (second generation)
Estimated number left in roadworthy condition: 4,000
Replacing the first-generation E21 3 Series, the E30 went on sale in 1982 and has since earned a reputation for becoming one of the brand's most defining cars. It was available as a two-door coupe, a convertible, a four-door saloon and an estate, and was powered by a range of four- and six-cylinder petrol engines and a six-cylinder diesel. It was also the first 3 Series to be sold as the high-performance M3 variant, though this super-desirable model didn't enter production until 1986. Strictly speaking, the E30 bends the rules by appearing on the list as it didn't go on sale in the UK until 1983, so for now only owners of a very early imported car will benefit from the exemption.
Ford Sierra
Estimated number left in roadworthy condition: 2,500
Revealed to the world at the British International Motor Show in Birmingham, the Ford Sierra went on sale in October 1982. As the replacement for the renowned Ford Cortina, the Sierra had a lot to live up to. It was a tough sell at first, with many criticising the boxy but more aerodynamic design, but the reality was that it was significantly more modern than its predecessor and sales quickly gained momentum. It was sold until 1993 when it was replaced by the Ford Mondeo.
Porsche 944
Estimated number left in roadworthy condition: 2,200
It may not share the stardom of its 911 sibling, but the 944 was undoubtably a thoroughbred Porsche. It was an evolution of the successful but underpowered 924 and as such featured a new 2.5-litre four-cylinder engine, later upgrade to 2.7-litres. More powerful S, S2 and Turbo models were also introduced in later years, along with a cabriolet version.
Volkswagen Polo (Mark 2)
Estimated number left in roadworthy condition: 1,600
Though launched in 1981, the second-generation Polo didn't arrive in the UK until the following year. In true 1980s Volkswagen style, it outperformed competitors when it came to reliability, build quality, durability and refinement. Initially it was available as a rather square-shaped three-door estate which affectionately became known as the 'breadvan'.
Reliant Rialto
Estimated number left in roadworthy condition: 500
Almost certainly the quirkiest car on this list, the three-wheeled Rialto was the replacement for the legendary Reliant Robin. Upon its launch in 1982, there was a 12-month waiting list for the wedge-shaped fibreglass tricycle built in Staffordshire, and it remained in production for some 16 years thereafter.
Volvo 760
Estimated number left in roadworthy condition: 150
Think classic Volvo and you'll probably think of big boxy estate and saloon cars, and arguably no model was squarer than the Volvo 700 series. Launched in the UK in July 1982 as the luxurious 760 saloon, in later years it was joined by an estate variant and a more utilitarian 740 model. Initially the 760 was available with a 2.8-litre V6 petrol, with a 2.3-litre four-cylinder petrol and a six-cylinder diesel joining the range later. In true Volvo style, it had a reputation for safety and durability, with many going on to rack up galactic mileage.
Lotus Excel
Estimated number left in roadworthy condition: 130
Launched in October 1982, the Excel was developed at a time when Lotus was working with Toyota to help it develop its Supra which resulted in the Excel using many Toyota parts. The Excel's body was made from two vacuum injected resin halves joined together which was mounted onto a galvanised steel chassis. With its 50:50 weight distribution, the Excel was renowned for its impressive handling. 
Ed's note – yes, the only image we could find to use was of the Top Gear submarine car…!
Renault 9
Estimated number left in roadworthy condition: 90
The Renault 9 small family saloon was launched in the UK in March 1982 and immediately proved to be a success after being named European Car of the Year. It was joined the year after by the Renault 11 which was identical underneath but used a hatchback body style. A hot Renault 9 Turbo later joined the line-up producing 115 PS from its 1.4-litre engine.
Austin Ambassador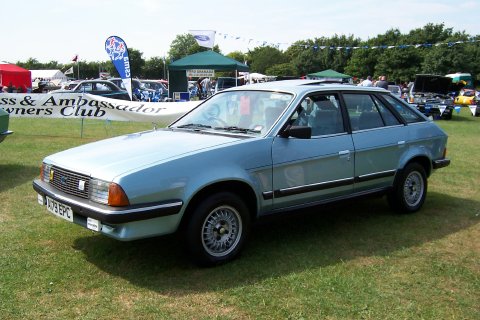 Estimated number left in roadworthy condition: 20
Serving as the replacement for the Austin Princess, the Ambassador launched in March 1982 but didn't receive the warmest of receptions, with only 43,000 built and sales discontinued just two years later. The result however is that this large family hatchback with its lacklustre powertrains is a rare sight on UK roads today, with only around 20 thought to still be in road legal condition.
Talbot Samba
Estimated number left in roadworthy condition: 20
Although the Talbot name dates back to 1902, by the 70s it had been taken over by Peugeot which revived the brand name in 1978. In late 1981, it launched the Samba – based on the Peugeot 104 city car – and the last car to wear the Talbot name. A quirky but cute cabriolet version also launched in 1982 which was designed and built by Italian coachbuilder Pininfarina.