Ring Automotive has launched a new promotion, urging technicians to keep an eye out for a Ring Golden Ticket to be in with a chance to win prizes.
The tickets are located in Ring's new inspection lamp or battery care products. There are 200 spread across various packs as part of the Ring Golden Ticket promotion, with Amazon and Just Eat vouchers up for grabs. 
Mechanics and technicians purchasing Ring's range of high-end inspection lamps and battery care equipment from motor factors, can check which prize their golden ticket has won them by visiting the Ring rewards site – ring-rewards.com
The promotion is also part of Ring's commitment to supporting motor factors ahead of exciting new product launches. The Golden Ticket promotion is set to help factors sell out of their stock of current-generation inspection lamps and battery care products.
Ring golden ticket to be found in multiple products
Featuring in the Ring Golden Ticket promotion is the RBAG750 graphical battery analyser, which can provide a complete health check of a vehicle's battery and electrical systems.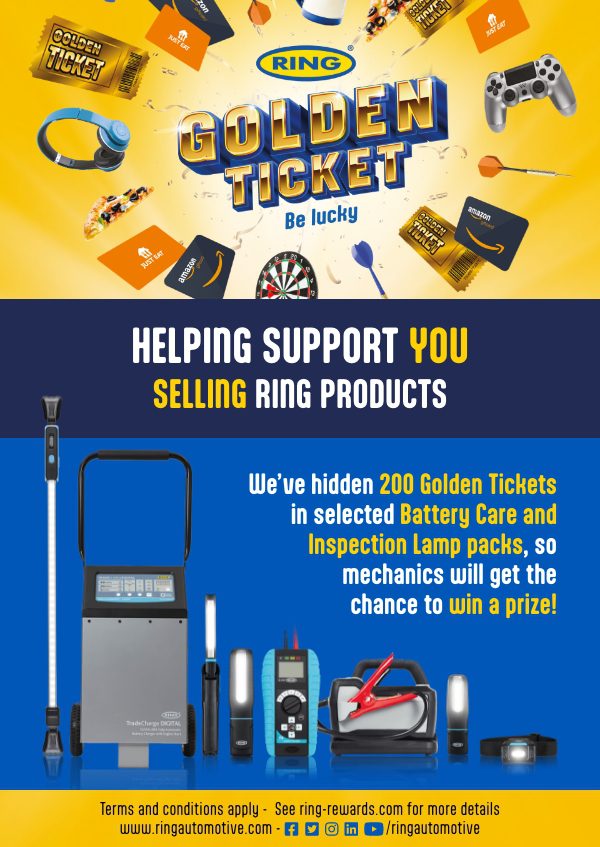 Compatible with both 12V and 24V vehicles, RBAG750 can detect battery charging problems by checking alternator voltages fall within normal operating ranges, and checks for potential starting problems by measuring battery voltage drop during engine cranking. All results can be printed on the device or sent to a computer via a USB connection.
Technicians can win in the Golden Ticket promotion with qualifying orders of Ring's smart chargers range.
Ring's SmartCharge RSCP5024 and RSCP60T products are designed with the professional in mind, delivering 50 and 60A continuous charging respectively, to deal with the demand of 12V and 24V battery recharging during diagnostic or data upload work.
Ring's smart charger and battery maintainers keep batteries in good condition without the risk of overcharging – automatically adjusting to long-term maintenance mode when the battery is full.
Also part of the promotion is Ring's popular MAGflex inspection lamp range, providing technicians with the required lighting for any job, designed to offer complete versatility and reliability in the workshop.
This includes the compact MAGflex Mini 250, powerful MAGflex Max 500, the versatile MAGflex Slim 500 and the MAGflex Headtorch 250 for a hands-free option.
Ring's inspection lamps come with an impact protection rating of IK7 or IK8 and have IP54 or IP65 rating to prevent dust and water ingress. All the lamps are rechargeable via USB-C technology for a more secure and consistent charge connection.