UK car production declined 9.8% in 2022, making it the worst year since 1956, according to the latest data from the Society of Motor Manufacturers and Traders (SMMT).
Just 775,014 passenger cars were produced in the UK during the year, 84,561 fewer than 2021, and a staggering 40.5% down on 2019. Despite COVID-19 restrictions easing last year, the industry was hit by supply shortages, especially of semiconductors, and issues with parts coming from China, which was still enduring lockdowns. Significant structural changes also played a part, reflecting a loss of production at two volume manufacturing sites.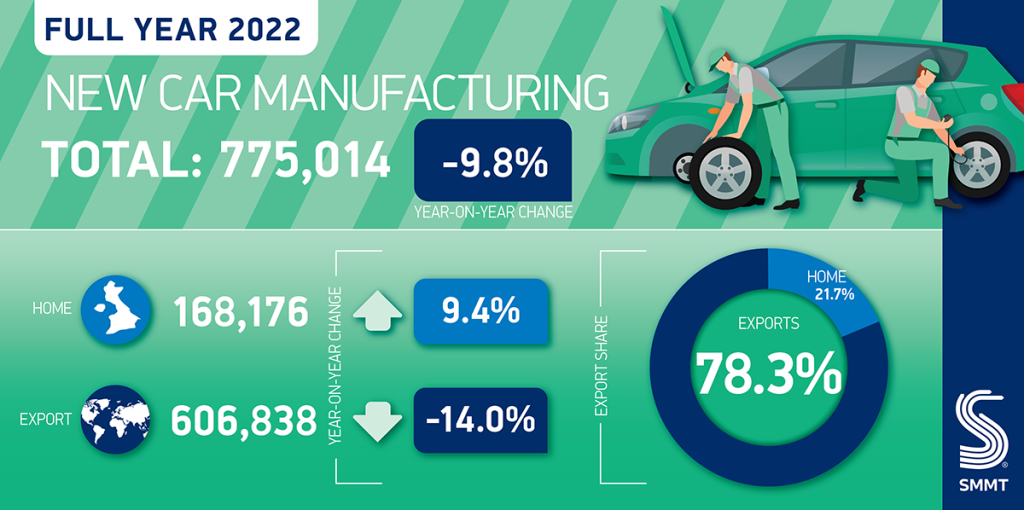 The SMMT had already stated that UK car production in 2021 was the worst since 1956. The new figures therefore represent the worst year for the UK automotive industry in 66 years. 
Electric and hybrid vehicles shine in UK car production
Despite the challenges, UK car production figures show a record 234,066 battery electric (BEV), plug-in hybrid (PHEV) and hybrid (HEV) electric vehicles, with combined volumes up 4.5% year-on-year to represent almost a third (30.2%) of all car production.
Total BEV production rose 4.8%, with hybrid volumes up 4.3%, and the SMMT states boosting output of these vehicles will be critical in the attainment of net-zero, for both the UK and major overseas markets.
The figures come as fresh SMMT analysis confirms the increasingly important role of electrified vehicle production to the UK economy, especially the value of exports. Since 2017, the value of BEV, PHEV and HEV exports has risen seven-fold, from £1.3 billion to more than £10 billion. 
As a result, electrified vehicles represent 44.7% of the value of all UK car exports, up from a mere 4.1%. BEVs, in particular, are critical to the future prosperity of the UK, with their export value up more than 1,500%, from £81.7 million to £1.3 billion.
The country's strength in specialist, luxury and performance car makers was also further underlined in the latest UK car production figures, with output climbing 6.6% to 32,575 units, worth an estimated total of £3.7 billion at factory gate prices, driven by a number of new launches and models in high demand from buyers around the world. These manufacturers play an important role in the development of advanced automotive technologies such as light-weighting and electrification which, in turn, can help advance wider industry.
Domestic market growth fails to offsel exports
Total annual output for the UK market grew 9.4%, but this was not enough to offset a 14% drop in UK car production for exports. Nearly eight in 10 cars (606,838 units) were built for overseas markets, compared with 168,176 for British buyers, emphasising the importance of free and fair global trade.
The EU remained by far the sector's largest market, even as shipments declined 10%, with 57.6% of exports (349,424 units) heading into the bloc. While exports to the US and China also fell, down 31.6% and 8.3% respectively, the number of cars sent to Japan (5.7%), South Korea (32.8%), Australia (4.7%), Switzerland (2.7%) and South Africa (23.0%) all increased, although together these represented just 8.4% of exports.
Exports to Russia, a top 10 export market in 2021, meanwhile, fell 78.3%, with shipments made before the outbreak of war in Ukraine and the cessation of business.
The challenges playing their part
When car factories were forced to shut down in 2020 due to COVID-19-related supply issues and lockdowns, businesses could be forgiven for thinking that year would be the worst on record for UK car production. However, the years that followed have been even worse.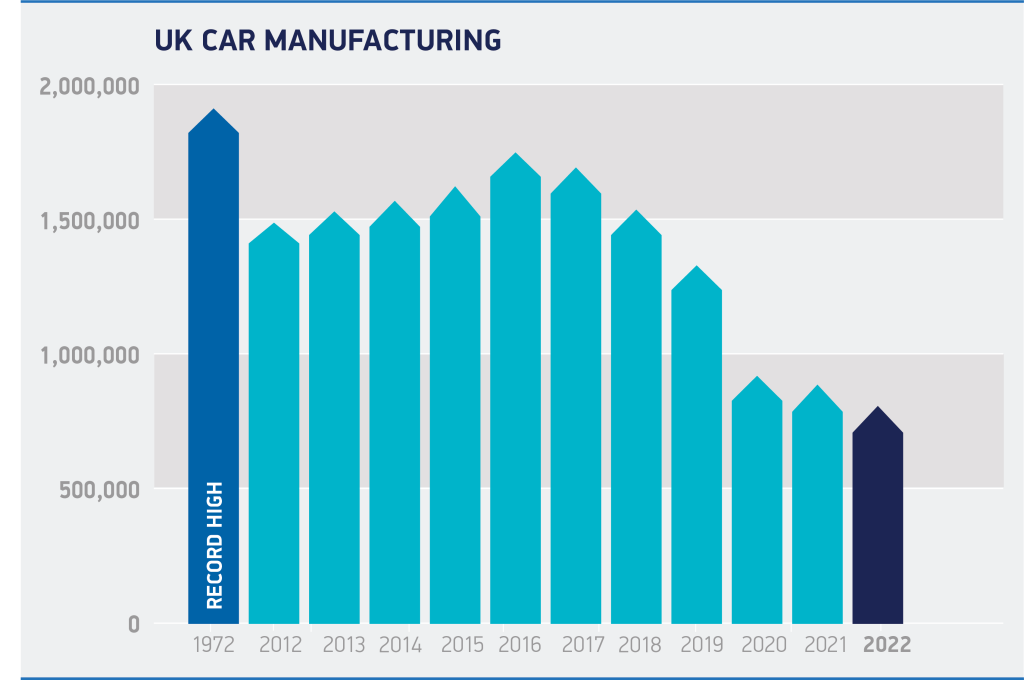 One of the biggest problems is around the supply of semiconductors. These electronic chips are vital for a number of vehicle components. However, unlike traditional car parts, the industry has to vie for these chips with other markets, such as computers, games consoles, phones and other home electronic equipment.
At the time when car factories were closing, the home technology market boomed, and manufacturers of semiconductors switched their supplies to cope. When UK car production started again, there were not enough chips available. As one semiconductor can take three months to make, and needs a dust-proof room for manufacturing, suppliers cannot just scale up production.
The cost-of-living crisis has also played a part, with vehicle demand dropping. Meanwhile, parts coming out of China have been slowed by further COVID-19 lockdowns. All of these issues have caused UK car production to slow.
UK car production needs to reflect technology changes
"These latest UK car production figures reflect just how tough 2022 was for UK car manufacturing, though we still made more electric vehicles than ever before – high value, cutting edge models, in demand around the world," comments SMMT Chief Executive Mike Hawes. "The potential for this sector to deliver economic growth by building more of these zero emission models is self-evident, however, we must make the right decisions now.
"This means shaping a strategy to drive rapid upscaling of UK battery production and the shift to electric vehicles based on the UK automotive sector's fundamental strengths – a highly skilled and flexible workforce, engineering excellence, technical innovation and productivity levels that are amongst the best in Europe."
Even amid the tough economic and political setting, UK Automotive is integral to ambitions on levelling up, delivering net zero and advancing global Britain. In 2022, publicly announced investment for the sector reached a total of £4.5 billion, with major new commitments to electrification in Crewe and Merseyside. This was down slightly from the potential £4.9 billion announced in 2021, which included the proposed development of a new battery gigafactory in the West Midlands.
Given the global and domestic challenges, industry is looking for a dedicated framework to position the UK as one of the world's most competitive locations for advanced automotive manufacturing. This framework must address soaring energy costs and the threat of increasing global protectionism, provide fiscal measures to encourage investment in zero emission technologies and equip the UK's talented workforce with the right skills to deliver these vehicles.
Looking forward, the latest independent outlook expects that, with easing semiconductor shortages, UK car and light van output should rise by 15% to 984,000 units in 2023 (842,200 cars and 141,800 light vans), an uplift worth some £3.9 billion. By 2025, production volumes are projected to surpass a million vehicles.