UK registrations are continuing to recover, with the longest uninterrupted period of expansion for eight years.
Data from the Society of Motor Manufacturers and Traders (SMMT) shows that UK registrations in May grew 16.7%, reaching 145,204 units. This means the UK market has recorded growth for 10 months in a row, highlighting a trajectory out of recent problems that have beset the market.
But change may be coming, with numbers expected to contract as the year continues, especially as the recovery from supply-chain shortages began in August of last year.
Petrol leads the market in May
Once again, petrol dominated the UK registrations in May, with 82,800 units taking to the country's roads, marketing a 12.5% increase compared to the same period in 2022. This equated to a 57% market share last month, although this is a drop of 2.2% on last year.
Battery-electric vehicles continue their rapid ascent, with 24,513 UK registrations up 58.7% year on year. This means the fuel type took a 16.9% market share in May, once again taking the runners-up spot in the UK, and increasing its share by 4.5% compared to May 2022. Plug-in hybrids (PHEVs) also enjoyed a strong month with registrations up 23%, and market share rising 0.3% to sit at 6.2%. This means that plug-in vehicles took 23.1% of registrations in May, with 33,583 units in total posting an increase of 47.2% year on year.
Hybrid vehicles improved 22.2% year on year, while diesel was the only fuel-type to decline, continuing a long-going trend. Its market was 17.6% down compared to May 2022, with just 11,074 cars registered. It does continue to outperform the PHEV market, however. With recent drops in the price of diesel fuel, there may be a slight bounce later this year, although probably not enough to prevent further declines, with the fuel-type remaining unpopular amongst new-car buyers.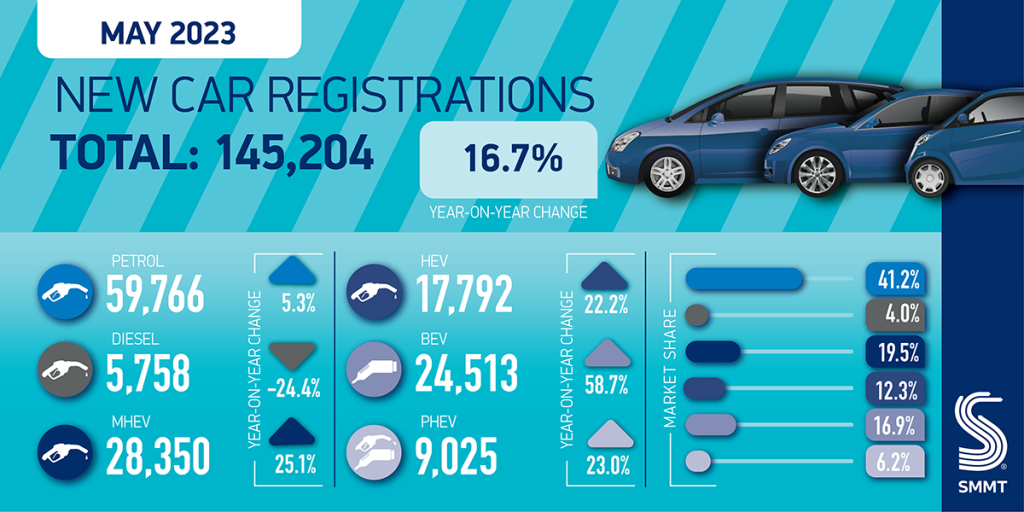 The total market is struggling compared to pre-COVID-19 levels, with UK registrations down 21% compared to May 2019 and down 26.1% year to date. While the growth continues at apace, there is also a possibility that it may slow from August onwards. Currently, the automotive market is comparing to a period when vehicle deliveries were affected by ongoing supply-chain shortages. With these deliveries finally making their way to customers from August 2022 onwards, the pattern of recovery will become clearer as this year progresses.
Long way for BEVs to go
So far in 2023, petrol has increased its UK registrations by 16.1% with a total of 440,712 units, while BEVs now sit 31.1% higher than the first five months of 2022, with 121,268 passenger car registrations.
The year-to-date figures highlight once again the work that BEVs need to do in order to make inroads into the top position in the market. Petrol's market share has remained stable in the first five months of 2023, with 57.1% just 0.3% down on the same period last year. BEVs have increased their share by 1.7% to 15.7%, but much of this has been taken from the diesel market share, which is down 2.3% year to date, meaning they are making little impact on petrol in UK registrations.
However, battery-electric choice in the UK has quadrupled over the last five years, with every class of vehicle now offering a fully-electric option, something that should begin to benefit their place in UK registrations. There are now 80 models available across vehicle segments, up from 21 in 2018, the SMMT states. Alongside this, there are now 94 PHEV models and 42 hybrid cars available. The average battery range has also increased, with the average distance a BEV can travel before charging at 236 miles, and the average range of a new model coming to market up to 300 miles. 
But to ensure all drivers can benefit, this choice of vehicles needs to be matched with affordable charging options, especially for those unable to make use of a domestic supply. There is a disparity across the UK when it comes to the plug-in cars to slow/fast charger ratio, with London seeing nine cars to one charger, while the north west has a rate of 67 cars per charger. Other areas do not fare any better, with the west midlands having a ratio of 40:1, and the south west at 66:1.
'After the difficult, COVID-constrained supply issues of the last few years, it is good to see the new car market maintain its upward trend and the fact that growth is, increasingly, green growth is hugely encouraging,' commented Mike Hawes, SMMT chief executive.
'Transforming the market nationwide at an even greater pace means we must increase demand and help any reticent driver overcome any concerns about electric vehicles,' added Hawes. 'This will require every stakeholder – industry, government, charge point operators and energy companies – to play their part, accelerating investment to drive decarbonisation.