The UK used car market declined in 2022, with the latest figures suggesting an 8.5% drop to 6,890,777 transactions, according to the Society of Motor Manufacturers and Traders (SMMT).
The performance saw 640,179 fewer vehicles changing hands than in 2021 and remains 13.2% down on 2019's pre-pandemic total, as the squeeze on new car supply – primarily due to the global shortage of semiconductors – restricted stock entering the second-hand market.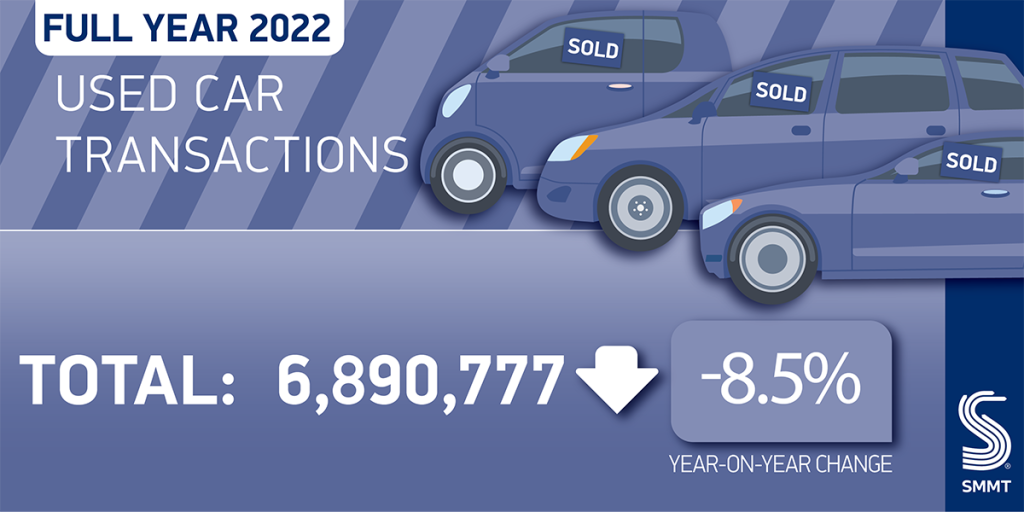 The semiconductor crisis caused a slowdown in sales of new vehicles in 2021 and 2022, and this had an effect on availability on the UK used car market. With drivers unable to collect their new cars, and certain models withdrawn due to the shortage of crucial components, the vehicles that would usually come into the second-hand dealerships were instead held on to. 
Transactions in the UK used car market increased by 0.8% in December in the first monthly rise since February, and while Q4 was down 4.3%, the third successive quarterly decline, it was not as steep as in quarters two (18.8% down) and three (2.2% down). This reflects the renewed growth seen in the new car market, helping more vehicles enter used car stock.
EVs grow in UK used-car market
While the UK used car market ended 2022 on a downward trend, used battery-electric vehicles (BEVs) recorded their best annual performance with a record 71,071 units changing hands last year, a rise of 37.5% and giving them a market share of 1%, up from 0.7%. 
Drivers who are looking to purchase a BEV could be put off by the high prices of new models, and therefore turn to the UK used car market to find a model within their budget. Doing so does come with risks, however. Much like mobile phones and other battery equipment, the quality of a battery can deteriorate over time, meaning the vehicle's range may be decreased.
This could open an opportunity for the aftermarket, with garages identifying and replacing dead or dying battery cells. Doing so, however, will require training, something the industry is slowing completing, but still lacking.
Robust demand for other alternatively fuelled vehicles continued, too, with sales of hybrid electric vehicles (HEVs) rising 8.6% and plug-in hybrid electric vehicle (PHEVs) transactions up 3.6%.
Combined, however, electrified vehicles represented just 4.1% of the UK used car market (up from 3.3% in 2021) and while transactions of used diesel and petrol cars fell by 11.8% and 7.7% respectively, they remained the dominant powertrains with a combined 6,594,880 units changing hands.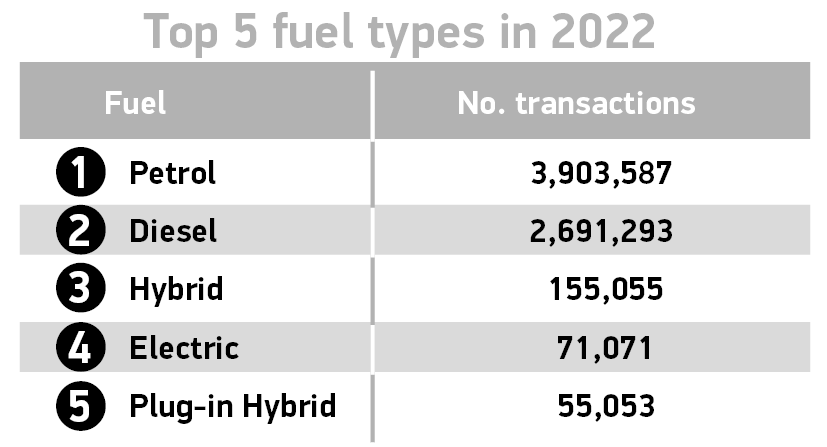 "While the market headlines are negative, and reflective of the squeeze on new car supply last year, record electrified vehicle uptake is a bright spot and demonstrates a growing appetite for these models," commented Mike Hawes, SMMT Chief Executive. "With new car registrations growth expected this year, more of the latest low and zero emission models should become available to second owners.
"Accelerating uptake is key and will be dependent on drivers being assured of a positive ownership experience. This means ensuring charging infrastructure keeps pace with demand as more new and used car buyers make the switch to zero emission motoring than ever before."
Colour choice in shades
Used car buyers went back to black as it proved to be the most popular colour for the year, accounting for a fifth (21.6%) of the UK used car market. Blue ranked second, with 16.4% share, and, despite grey topping the new car market, it ranked third for used cars at 16.3% market share. Some buyers opted to add a splash of colour to their journeys, with 4,461 pink, 6,708 turquoise and 18,658 bronze used vehicle transactions during the year.
In terms of market segments, all sectors saw transactions decline aside from dual purpose, which was the third most popular body type, recording a small growth of 0.8% as just over a million changed hands. Superminis once again took the title for most popular segment, taking a third of the market (32.3%) despite recording a 9% fall in volumes. Following behind, lower mediums were the second most popular and were responsible for 26.3% of the market, but also noted a 9.6% decline. The smallest volume segment type was luxury saloons with a 0.6% market share.
Rising prices causing UK used car market slowdown
"While UK buyers welcomed a slight downturn in average prices during the middle of 2022, dropping from approximately £18,800 in April to £18,000 in August, average used prices have since crept back up and ended January 2023 at nearly £20,000 – 0.6% higher when compared to January 2022 at about £19,700," Kevin Roberts, Director of Industry Insights & Analytics at CarGurus, commented on the UK used car market figures. "Crucially, buyers are still paying over 40% above pre-COVID averages.
"There are still good deals out there for consumers as a number of popular models across the market fell in value by over 20% year-over-year, including the Vauxhall Crossland (down 24.7%), electric Renault Zoe (down 24.2%), Citroen Grand C4 Picasso (down 24.2%), Vauxhall Insignia (down 24.1%) and Jaguar XF (-22.7%), to name a few.
"As consumers faced growing cost of living pressures, vehicle demand in the UK used car market remained down for 2022 when compared to 2021. However, it appears the gap in demand for used vehicles did narrow between 2021 and 2022 as the year progressed.
"Looking ahead to 2023, the hope is that the market should begin a path to a new paradigm, leading to average used car prices dropping.
"However, given the recent news that new vehicle production levels in the UK hit their lowest output since 1956, prices of used cars could again begin to rise as demand outstrips supply."