Castrol has revealed a brand refresh, with a new logo and identity, as the company aims to better reflect its position in the market.
The lubricant specialist, part of the bp group, also believes that the branding will meet the changing needs of customers. The new Castrol logo is sleeker, flatter, and is the result of a comprehensive brand strategy process, which included extensive research, analysis, and input from stakeholders, customers, and industry experts.
The updated Castrol logo features a more modern, dynamic, and vibrant design, with a focus on The company's core strengths and differentiators as the company aims to broaden its appeal among a more diverse customer base for lubricants, services and solutions. It maintains Castrol's iconic red, green and white colours, which are strongly associated with the brand, and is set to improve brand memorability online.
Digital future for Castrol logo
Castrol is the latest company to move to a flatter, 2D-style logo, in the automotive industry. Numerous carmakers have switched to this style of logo, including Volkswagen, Citroen, Skoda, BMW and others.
The main reason for this is that the logo images will look better online. With more and more marketing involving digital content, including social media strategies and videos, a logo that is easier to identify, while standing out on a screen, is important for branding in today's marketplace.
The new Castrol logo takes advantage of this. It features a refreshed font and a flatter version of the original logo, devoid of any 3D elements or lighting techniques to stand out. It is instantly recognisable as Castrol, but with a design that will now look at home on a digital platform as well as on bottles of oil and lubricants.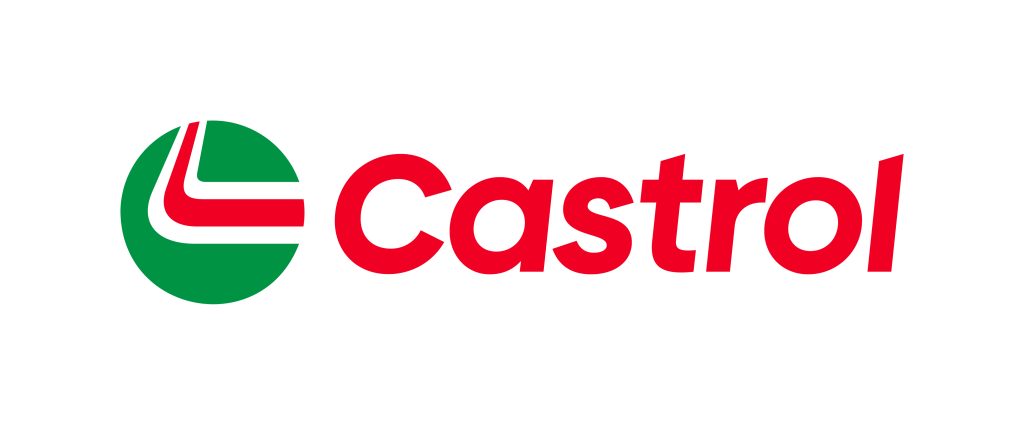 Alongside the new Castrol logo, the brand refresh also includes a new sonic identity. It has been crafted to enhance the refreshed visual look and feel, with music and sound design that strongly elicits feelings of acceleration, forward-momentum and dynamic movement.
This again is a new way of thinking when it comes to brand identities. Multimedia platforms will often include a sonic identity that is quick but clear as to which brand is being presented. The importance on audio patterns is highlighted by BMW, which is working with renowned Hollywood composer Hans Zimmer on its audio strategy, including sounds for infotainment systems linked to its logo, and even door-open warnings.
Castrol states that the new sonic identity is a powerful future distinctive brand asset that will drive awareness and memorability. The company believes that the new Castrol logo, marketing plans and sonic identity, will provide a more engaging, memorable, and effective brand experience for its audiences.
Rollout of new Castrol logo and identity
The refreshed brand identity is being rolled out in stages across all of Castrol's European operations this year and into 2024. The new Castrol logo and branding will be visible on all of its product packaging, service partnership programmes, facilities, online and offline marketing, and global sponsorship assets.
Castrol worked with top branding and design agency Landor & Fitch and leading sonic branding agency MassiveMusic to develop its refreshed brand identity. The expertise and creativity of these two agencies has been instrumental in shaping the refreshed brand.
"We are excited to launch our refreshed brand, which represents an exciting chapter for our company," said Nicola Buck, chief marketing officer of Castrol. "Our refreshed brand identity reflects our commitment to investing in the future and creating new opportunities for growth and success."
"The worlds of mobility and industry are facing faster-than-ever changes as the world transforms and aims for net-zero, and customers want more sustainable solutions. Change is vital for Castrol to thrive. We are signalling to the world that we are set for the future."
"I believe that refreshing a globally recognised brand is not just about changing its appearance or messaging," added Michelle Jou, CEO of Castrol. "It's about reinvigorating its essence, and relevance in today's world. We need to listen to our customers, understand their evolving needs and aspirations, and leverage our core strengths to be a brand that inspires them. A refreshed brand should not be just a cosmetic exercise; in my view it's a strategic imperative that drives growth, differentiation, and long-term success."
Castrol is exploring opportunities to provide solutions and services that will complement its core lubricants business and provide additional value to customers. For example, the company already has Castrol ON – a range of advanced electric vehicle (EV) fluids including EV Transmission Fluids, EV Thermal Fluids and EV Greases; and has announced plans to invest around $60 million in a new, state-of-the-art EV battery testing centre and analytical laboratory in the UK. Castrol's ON immersion cooling fluid for use in data centres has now been fully approved by Submer for use across its portfolio of products.